Welcome!
On this page you will find links to advice games and quizzes about staying safe online. Why not share them with your friends and family?
Look! Here's Hector's World! This is just right for 5-7 year olds, but Key Stage 2 children like it too!
Have you met Captain Kara and Winston yet? This is great for 7-11 year olds! BBC staysafe is also another useful website when thinking about staying safe online.
Some of our older children like to visit the Cyber Cafe!
Need help?
If something upsets you online or you are worried about a friend it can really help to talk to someone. There are lots of people who can help you. You should talk to an adult you trust if anything has upset you or made you feel uncomfortable whilst online.
Remember you can always call ChildLine on 0800 11 11 or visit the ChildLine website if you ever need to talk to someone in confidence. If you are worried about the behaviour of another user online, visit Thinkuknow to make a report or click here for the direct link.
Do remember to follow the Click Safe rules (Key Stage 1) and Click Aware rules (Key Stage 2) that we agree to follow in school and at home.
Have fun and stay e safe!
Bishop's Hull's E- cadets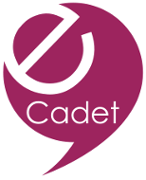 Remember that our E-cadets are there to offer advice or support whenever you may need it. Speak to them if you have any ideas concerning e-safety that you would like them to discuss at the school forum.

E - cadets have been put on hold since Covid but always remember to speak to a trusted adult at home or at school if you have any concerns.